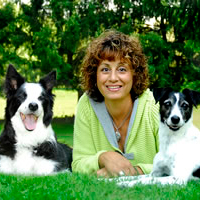 Animal Chiropractic
Chiropractic for animals is not a new phenomenon!
Although it has been more prominently seen as valuable in recent years, it has been around since the 1920's. B. J Palmer, the developer and son of the founder of chiropractic, D. D. Palmer, actually issued chiropractic veterinary diplomas.
Whether it is human or animal chiropractic, there is a relationship between the spinal column and the nervous system which in and of itself has a crucial role in maintaining overall health. Horses and dogs (and many other animals) who are adjusted by a chiropractor will find enhanced performance in breeding, training, appearance and agility.
Dr. Annette Langlois
Today in Canada, Dr. Annette Langlois is a leader and in many ways a pioneer in the whole area of animal chiropractic. Dr. Langlois graduated as a human chiropractor at the Canadian Memorial Chiropractic College in 1987.
In 1998 she completed her certification in animal chiropractic and began a parallel practice with animals. She has also completed some of her training in advanced neurology and is the co-founder of the Veterinary Chiropractic Learning Centre, certifying chiropractors and veterinarians in the veterinary chiropractic field. She is also a co-founder of the college of animal chiropractors, a memebership organization founded for doctors who have successfully completed an approved program in animal chiropractic/veterinary spinal manipulative therapy.
Dr. Langlois, conducts her own practice and is one of the directors and instructors of the Veterinary Chiropractic Learning Centre. In addition, she is available for public speaking engagements on holistic care of horses, dogs, and other animals. She also enjoys guest speaking engagements in the areas of chiropractic and anatomy. She has the unique ability to bring her in-depth knowledge to an enjoyable level which is helpful to people from every walk of life.