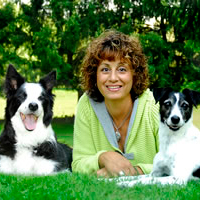 Today in Canada, Dr. Annette Langlois is a leader and in many ways a pioneer in the whole area of animal chiropractic. Dr. Langlois graduated as a human chiropractor at the Canadian Memorial Chiropractic College in 1987.
In 1998 she completed her certification in animal chiropractic and began a parallel practice with animals. She has also completed some of her training in advanced neurology and is the co-founder of the Veterinary Chiropractic Learning Centre, certifying chiropractors and veterinarians in the veterinary chiropractic field. She is also a co-founder of the college of animal chiropractors, a memebership organization founded for doctors who have successfully completed an approved program in animal chiropractic/veterinary spinal manipulative therapy.
Dr. Langlois, conducts her own practice and is one of the directors and instructors of the Veterinary Chiropractic Learning Centre. In addition, she is available for public speaking engagements on holistic care of horses, dogs, and other animals. She is a Back on Track Distributor and a DoTerra Wellness Advocate and enjoys guest speaking engagements in the areas of chiropractic and anatomy. She has the unique ability to bring her in-depth knowledge to an enjoyable level which is helpful to people from every walk of life.
---
Book a chiropractic appointment with Dr. Annette